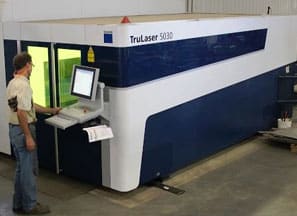 Schaffer Manufacturing significantly extended its laser cutting versatility, processing capacity and high-volume capability by adding a 5,000-watt fiber laser system with automation.
The high-power Trumpf 2D TruLaser Series 5030 fiber machine is one of the first 5,000-watt systems to go online in the Midwest region. Fiber laser machines more commonly are in the 3,000-watt or 4,000-watt range. Using the new technology to expand the Schaffer cutting systems portfolio helps drive the company's strategy to be a single-source, highest-quality fabrication partner to a diverse range of customers with a mix of materials and thicknesses.
Solid-state fiber optics produces the laser beam and delivers it to the cutting head. Already coupled into a flexible fiber, the beam is easily delivered to a moveable focusing element, which is critical for laser cutting. Cleaner cut edges and faster cutting speeds result from high peak power and better beam quality.
In the time since fiber laser technology was introduced, CO2  lasers have remained the go-to platform for cutting thick materials faster and with high cut quality. Trumpf enhancements, however, enable the Schaffer fiber laser system to match CO2 laser effectiveness on thick materials – including mild steel, stainless steel and aluminum up to 1" – without sacrificing cut edge quality.
Higher energy efficiency, faster processing and automated "lights out" operation also make the fiber laser cutting attractive to OEMs seeking to lower per-piece cost on high-volume sheet metal processing.