(Update – This equipment has been sold and is no longer used. This article is active for reference reasons only).
Schaffer Manufacturing has extended its sheet metal processing versatility and high-volume production efficiency by bringing online only the third TRUMPF TruPunch 2000 installed to-date in the United States. The Schaffer punch is the first TruPunch 2000 installation in the country to be combined with the SheetMaster Compact automation system for loading/unloading raw material, and unloading finished parts.
The TruPunch 2000 system offers all of the optimized part quality and machining flexibility that puts TRUMPF on the leading edge of punch technology. Automation enhances the Schaffer capability to offer OEMs cost-effective sheet metal solutions (on steel up to ¼-inch) for medium- and large-scale production runs.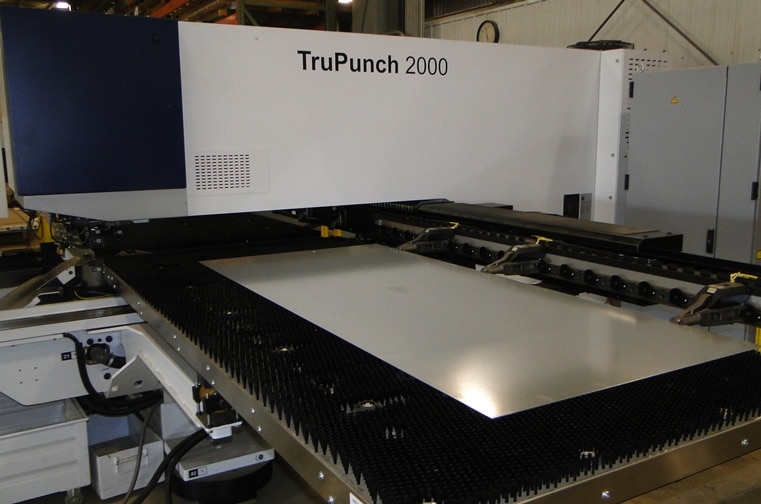 The new punch has a stroke rate of up to 900 hits per minute, a 48"x 96" sheet capacity, and a non-marking full brush table that reduces part scratching.
The new addition also gives Schaffer the punch systems redundancy critical for guaranteeing production capacity. Schaffer also runs a TRUMPF TruPunch 5000 turret that operates at up 1200 hits per minute, holds up to 210 automatically loaded and numerically controlled tools, and provides a 60"x120" sheet capacity that dramatically improves nesting capability and sheet utilization.
Expanding the Schaffer cutting systems portfolio improves the company's readiness to be a single-source, high-quality fabrication partner to a diverse range of customers with a mix of materials and thicknesses.