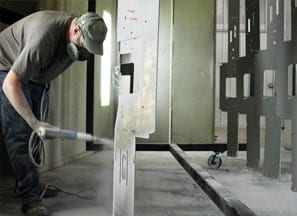 (Update – Schaffer Manufacturing no longer does powder coating. Schaffer Finishing is now called Rocket Powder Coating and is an independently owned company. This article is active for reference reasons only).
Schaffer Manufacturing has broken ground for its second major facility expansion of 2014. A 12,000 sq. ft. addition to the company's 10,000 sq. ft. powder coating operation follows construction of a dedicated warehouse that houses Schaffer's supplier-based inventory management capability. Schaffer opened the 12,000 sq. ft. warehouse in May 2014.
Schaffer Finishing, the company's batch-style powder coating operation, came online in 2010. The company has operated a wet paint line for most of its history. At the same time, it became clear that providing customers with the best-possible version of single-source, vertically integrated metal fabrication requires an in-house powder coating operation. Certainly for sheet metal, which is mostly powder coated. But also for heavy fabrication, which is seeing more and more conversion from liquid to powder.
On the largest heavy fabrication projects, choosing between wet paint and powder often comes to down to whether a powder coat operation can accommodate sizable, heavy parts and weldments. With its roots in heavy fabrication, Schaffer developed powder coating pre-treatment systems, spray booths and curing ovens with the capability to process large structures. At 30 feet long, for example, Schaffer's curing oven represents the top end of what is available among the region's powder coating suppliers.