Schaffer Manufacturing has been processing HARDOX®  Wear Plate as an approved Hardox Wearparts Center for almost two decades. Click here for a list of applications and wearpart components that Schaffer can support with design, engineering and fabrication customized to an industry.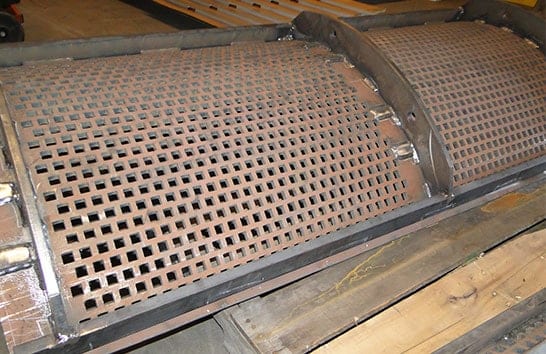 HARDOX® is not the only abrasion-resistant (AR) plate on the market. However, we're certain that it's the best product for replacement-part applications ranging from recycling and road building to quarries and mining.

Just as all AR plate is not created equal, not every metal fabrication supplier approaches, knows and works with wear plate the same way. First, it's not only about metal processing. A replacement-part strategy that optimizes uptime and operating cost requires experience handling AR plate – like Hardox – to design, engineer and manufacture for a specific industrial use or application.
Understanding "wear physics" of a severe-duty operation is critical to matching wear plate to the application. Is it sliding wear? Is it impact wear?
In addition, there is science behind analyzing, understanding and reacting to the material or media that a replacement part works against. A recycling or quarry operator, for example, isn't necessarily expected to know the breakdown of every media. But knowing the chemical composition of the material being extracted or processed helps fine-tune and determine what grade of Hardox – on the Brinell scale – suits the need best. Schaffer can send a sample of a media for analysis by the Hardox lab to help determine the hardness grade that fits the application.
Frac sand is a good example. Depending on properties that characterize the highest grade for frac mining, the sand is high-purity, nearly 100% quartz. As a result, frac sand mining is one of the most wear-intensive operations for mining equipment wear parts.
It's also a prime example of how an optimal wearpart solution is more than a straight price-per-part calculation.
You certainly will find screen liners made from 400 Brinell hardness steel. But an operator strategically sourcing a replacement liner should consider the "total cost" experience in switching to Hardox 500 plate.
For more information on Hardox and how it is used in various applications, visit the HARDOX Wear Plate site.