Much of the work fabricating heavy equipment, rugged-duty implements, or the replacement parts that keep those workhorses on the job can require precision plasma cuts in sheet up to 1.5 inches thick. Or forming 1.5" steel with a 600-ton press.
But that's not the only kind of "heavy lifting" involved in fabricating tools tough enough to do the hard work. Schaffer solutions also include:
Systems and work planning to move projects – from order, to Engineering, and through production – with 25% lead-time reductions compared to typical heavy fabrication schedules.
Application-specific design and engineering experience to decrease weight, maximize integrity, improve manufacturability, and reduce production costs.
AWS-certified welders and certified weld inspectors testing weld integrity against standards specific to the equipment type and industry.
Precision machining – utilizing the area's largest machining centers – that optimizes the form, fit and function of each individual weldment.
Materials sourcing and forecast-driven production scheduling – combined with inventory management – that reduces supply chain risks and costs.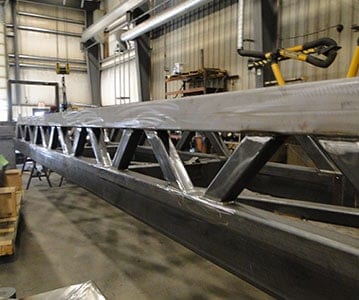 Schaffer Manufacturing can fabricate heavy equipment and implements for a range of applications, including:
Road Construction & Maintenance
Asphalt Pavers
Asphalt Plant Refurbish/Repair
Buckets
Loaders
Blades
Plow Components
Waste & Recycling
Shears
Grapple Components
Hoppers
Screens
Conveyors
Sorters