The aggregate and mining insight Schaffer Manufacturing has developed during 20 years fabricating replacement wear parts translates to rapid turnarounds on components that stand apart for precision, durability and cost-to-manufacture.
Frequently, the concept supplied for a replacement shaker screen or cyclone critical to keeping a mine or quarry operation online is a verbal description, a template or a photo. Schaffer has been making wear parts for so long, and for so many wear-intensive applications, that the Engineering team has a head start. Not only on the essential specifications, but also how to improve functionality and optimize manufacturability.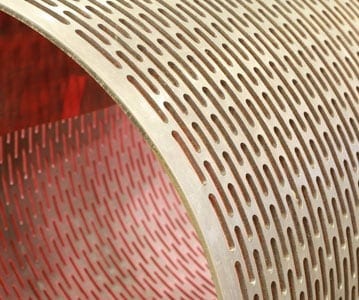 In addition, Schaffer is one of a limited number of U.S. fabricators authorized and certified to manufacture parts from HARDOX Wear Plate. Schaffer experience processing the top abrasion-resistant (AR) steel for a wide range of applications – combined with technical tools like WearCalc™ to calculate and compare service life – enables AR solutions customized to meet operator needs.s.
Schaffer uses a large toolbox to fabricate wear parts used in a wide range of aggregate and mining applications:
Screens
Scraping Screens
Perforated Side Tension Screens
Liners
Feed Bed Liners
Chute Liners
Tile Liners
Crusher Liners
Dump Box Liners
Plates
Distributor Plates
Crusher Cheek Plates
Bars
Grizzly Bars
Center Hold-Down Bars
Other
Abrasion-Resistant Clamp Rails
Pug Mill Hammers
Mechanism Tube Covers
Bins/Hoppers
Conveyor Flights