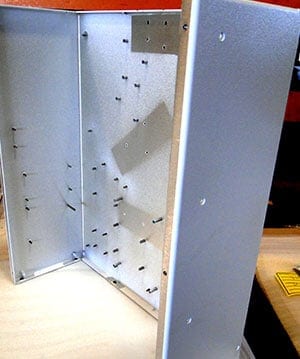 Enclosures are often categorized as commodity-type supply chain purchases. Basic constructions that provide few opportunities for a fabricator to add value during basic operations like cutting, punching, forming, countersinking and hardware insertion.
At Schaffer Manufacturing, supplying frames and skins for OEM products from packaging and processing equipment to quality control systems and cabinets for process control components require a more aggressive view of what is possible.
For example: 
End-user environments that require high-end enclosure integrity – like protective housings for power-system components on a manufacturing floor, or stainless steel construction for food industry applications – include working with complex, non-standard specifications from engineering to weld quality and finishing.
Cost reduction gets a significant boost from specialized forming knowledge, progressive tooling set-ups, and large, fast press breaks that enable fabricating with as few pieces as possible to reduce labor-intensive operations like welding and assembly.
Fabricating a wide range of enclosure projects requires the single-source versatility to partner on a component at prototype or production volumes, from mild steel to stainless steel, and custom Class A finishes to powder coating.