The technology driving increasingly sophisticated packaging and material processing equipment evolves rapidly to meet end-user requirements for more speed, efficiency, precision and flexibility.
Schaffer Manufacturing partners with automated packaging and materials processing OEMs on solutions ranging from foods and confectionary systems to laser-based die-cutting, laminating and converting machines.
An integrated Schaffer solution for a high-performance system can include fabricating framework and components, creating quality metal finishes, applying powder coatings, providing complex assemblies, and managing inventory
Custom equipment and systems can drive up manufacturing supply chain costs. The Engineering team at Schaffer collaborates with OEMs during development and prototyping to optimize functionality and manufacturability of packaging and processing solutions.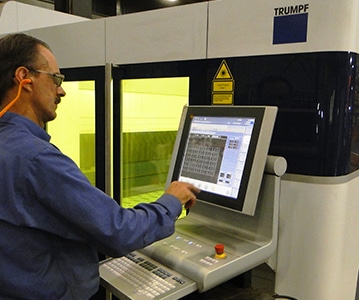 Working extensively with stainless steel, and frequently cutting stock more than ½" thick, Schaffer relies on the speed, precision and automation of a 5000-watt fiber laser.