Knowing How It Goes Together.
Schaffer Manufacturing got started in 1993 doing weld repair from a one-man, rented garage in Northwest Wisconsin. Today, one-stop metal fabrication gets done with 20-ton overhead cranes, press brakes as large as 600 tons, and automated 5000-watt laser cutting systems.
You might think today's Schaffer has little in common with those job-shop start-up days. That everything has changed for a heavy fabrication specialist now building barge hulls, or severe-duty, abrasion-resistant HARDOX® Wear Plate for aggregate mining.
You might not expect similarities between the early welding repair days and providing precision sheet metal fabrication for production equipment, lab systems, computing products and retail fixtures.
But it's still about the metal. And knowing how things go together.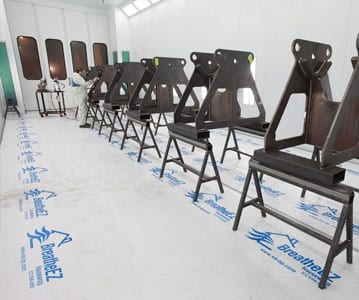 Schaffer Manufacturing is an ISO 9001:2015 company that provides integrated, single-source solutions that combine engineering, cutting, forming, machining, welding, finishing, assembly and inventory stocking.
80,000 sq. feet of manufacturing and warehouse operations
Prototype, small batch and volume production
Full-service Engineering
Fiber laser cutting, CO2 laser cutting, plasma cutting, water jet cutting, oxy-fuel cutting, punch cutting
Press brakes up to 600 tons
Large-envelope vertical machining centers
In-house Class A wet paint line
Dedicated powder coating facility
Complex assembly and packaging
Inventory stocking programs