Schaffer Manufacturing has worked with an equipment manufacturer for seven years, fabricating components the customer welds and assembles for a wide range of major-brand equipment.
When the brand introduces new products, the OEM often turns to Schaffer in a "strategic outsourcing" strategy that enables building the new product cost effectively at early, lower volumes. Schaffer handles production – laser cutting, forming, welding, machining and warehousing – until volume makes OEM in-house fabrication cost effective. Schaffer currently fabricates, kits and vendor-manages inventory for a 2016 new product. With a kit for each of 16 different builds, and 200 components per kit, the project presents a significant logistics, material handling and assembly challenge for the OEM. Productivity and on-time delivery to the OEM's customer depends on receiving efficiency, confirming part counts, and accurately staging parts at assembly.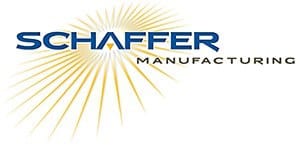 The complexity will increase as OEM production volume doubles between years one and two. The OEM looked to Schaffer for a more strategic material handling approach than loading parts into wood crates.
The Schaffer-designed solution is a modular, versatile and reusable "shipping cart" that is loaded with kits for transfer to the OEM. A cart can carry four kits. Schaffer assembles a cart, from modular components, to match the kit required for a specific build. Part-specific placeholders on the cart ensure each component is included in the correct quantity. With inspection streamlined, and parts pre-staged for assembly, the OEM material handler can move the cart direct from receiving to production
The cart returns to Schaffer for re-use. Three loaded carts stay in rotation between Schaffer and the OEM, with Schaffer pulling from inventory to fulfill production demand. The system accelerates and streamlines shipping and receiving. The "flow-through" process from inventory to production minimizes material handling and reduces space needs in receiving.