Schaffer Industrial Finishing, based in Centuria, WI, is the batch-style powder coating sister company to Schaffer Manufacturing. Schaffer also operates a wet paint line in Milltown, WI, where our design and engineering, fabrication, assembly and warehouse operations are located.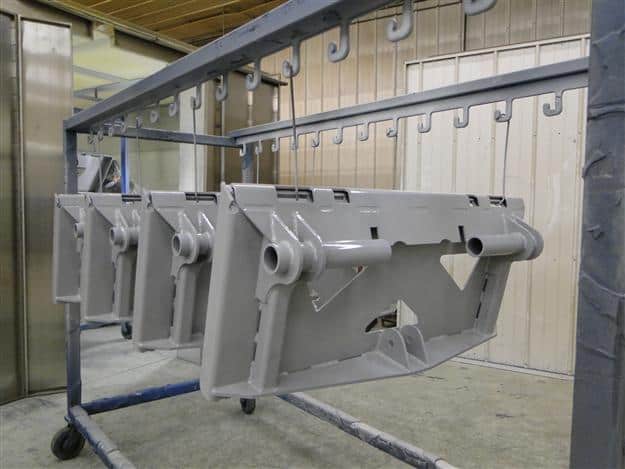 Schaffer does a significant amount of powder coat work for OEMs – particularly in the northwest Wisconsin region – that involves applying primer/topcoat combination finishes to heavy equipment  components, agricultural equipment, and implements.
The powder coating systems, equipment, technologies and capabilities that enable Schaffer to support OEMs in those industries and applications, include:
Certification to John Deere standards. Schaffer is certified to paint material and paint process specifications JDM F17X1 and JDM FI7X2, respectively. John Deere coating standards are among the most stringent in the agriculture and heavy equipment industries.
Achieving Salt Spray Test performance up to 1000 hours. The standardized Salt Spray Test, also known as ASTM B117 or fog testing, is an accelerated corrosion test used to measure the comparative corrosion resistance of coated metals exposed to a salt spray or salt fog at high temperature. The higher the number of test hours without showing signs of corrosion, the more corrosion-resistant the coating application. Approximately 80 percent of manufacturers that specify minimum Salt Spray Test performance require 200 to 400 hours. John Deere, for example, specifies a minimum of 250 hours.
Processing components that are "large" by dimension and weight. The Schaffer part window for powder coating is 30 feet long, 8 feet tall and 8 feet wide. In addition, the powder operation can accommodate components and assemblies weighing up to 5,000 pounds.
Choosing between wet paint and powder finishing for heavy equipment often comes to down to whether a powder coat operation can accommodate sizable, heavy parts and weldments. With its roots in heavy fabrication, Schaffer developed powder coating pre-treatment systems, spray booths and curing ovens with the capability to process large structures. At 30 feet long, the Schaffer curing oven represents the top end of what is available among powder coating suppliers in the region.