The leading edge of laser cutting technology is closer at-hand than you might think.
The Fabricator recalled in an article last year how the newest laser cutting, engraving and marking technology debuted as a metal fabricating "curiosity" in 2009. Today, the fiber laser is "a proven production tool" and the fast, high-quality "laser technology of the future."
Even so, fiber systems – especially machines on the high end of the power range – remain relatively rare. As a result, the Trumpf 2D TruLaser Series 5030 fiber machine that Schaffer Manufacturing installed in June 2014 is one of the first 5000-watt systems to go online in the Midwest region.
Using the new technology to expand the Schaffer cutting systems portfolio helps drive the company's strategy to be a single-source, highest-quality fabrication partner to a diverse range of customers with a mix of materials and thicknesses.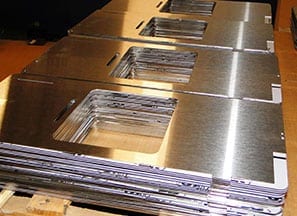 Fiber lasers are known to be faster and more energy efficient (than CO2 lasers) for cutting thin-gauge sheet metal. But CO2 lasers have remained the go-to technology for cutting thicker materials faster and with high cut quality. Until recently, that is. Schaffer was sold on the fiber machine when Trumpf introduced new, optional technology that enables fiber laser technology to match CO2 laser effectiveness on thick materials – including mild steel, stainless steel and aluminum up to 1" – without sacrificing cut edge quality.
In one example that Trumpf uses to demonstrate the cut quality and intricacy made possible with fiber technology, small-contour processing like 0.040-inch-diameter holes in 0.5-inch stainless steel are cuts instead of pierces.
All together, the higher energy efficiency, faster processing and automated "lights out" operation that the new fiber laser provides help make the fiber laser option attractive to OEMs seeking to lower per-piece cost on high-volume sheet metal processing.
The 5000-watt power level gives Schaffer significantly more versatility compared to the more typical 3000-watt and 4000-watt systems. For example, Schaffer can be a very good fit and option for processing high volumes of "borderline" sheet metal at thicknesses from 3/16-inch to 1-inch. High power is also critical to cutting thick stainless steel. From a product development perspective, a fabrication supplier with the ability to process thicker stainless steel – compared to a CO2 laser – can significantly increase a customer's design and engineering options.